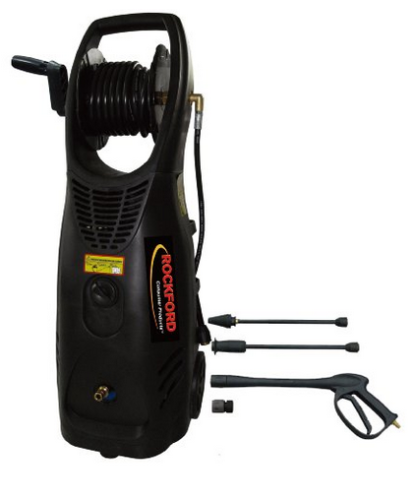 Today I got to review a pressure washer by Rockford called the CPU0207. When I first heard I was going to be checking out a Rockford pressure washer I was wondering how this unit would compare to other electric pressure washers. I had never heard of Rockford pressure washers until today.
So with all the pressure washers that I review, I have to see if they are worthy to be added to our list of best electric pressure washers. Based on my findings, it is not the best electric pressure washer, but is something that may be attractive to certain buyers.
Specs:
PSI: 2000 PSI
GPM: 1.6 Gallons Per Minute
Pump: Axial Cam
Engine: Electric
Detergent System: YES Double Built-in detergent tanks.
Nozzles: comes with an adjustable fan lance and a turbo nozzle.
Warranty:  1-Year limited manufacturer's warranty.
Features:
The CPU0207 may have a weird model number, but it does offer some great features at an affordable price.
On board hose storage reel – this is very convenient and allows you to quickly wind up the hose for easy storage.

Speaking of storage this electric power washer is extremely lightweight and compact so you can store it just about anywhere.
If features 2000 PSI and pushes out 1.6 Gallon Per Minute. This equates to 3,200 Cleaning Units.
The Rockford CPU0207 also comes with a built in double detergent tank system. This allows you to use 2 different soaps so that you can make sure you are ready to clean everything around the house.
Has a 32′ GFCI power cord with a 20′ high pressure hose. This is usually enough length for most people but being that it is an electric washer you are tethered to a power outlet so you may need to use an extension cord.
Its adjustable pressure levels allow users to spray down fences, patios, siding, and windows or wash cars, boats, and trailers—all with ease and convenience.
Pros and Cons of the Rockford CPU0207 Electric Pressure Washer:
Upon my review of the CPU0207 pressure washer, I found it to have only a few pros and cons over some of the better power washers.
Pros:
2000 PSI is usually more that enough power for an average home user who needs to do small jobs around the house.
I really love the dual detergent tank. This lets you store different types of soap for different applications. Only a small number of pressure washer have this feature.
Cons:
The design is very similar to the majority of units out there today where they are tall and skinny and only have 2 wheels. This design leaves them vulnerable and they tend to tip over with the slightest yank. I find it very annoying having to keep walking over and picking the thing up. That is why I love a rolling unit like The Force 1800. You can check out the mostly 5 star reviews here: Review of Power House International's The Force 1800
I also had some issues with the hose connector keeping the hose in place. If you twist or tug too hard it gets dislodged and you have to reconnect it. This can be very frustrating, but the manufacture has said they are sending out replacements to remedy this issue.
Having only 2000 PSI is really just a limitation of electric power washers. You need to move up into a gas unit if you need more PSI. Having said that make sure you know what kinds of tasks you are going to be doing before you purchase any pressure washer.
Price. This unit should be priced slightly lower since it is a new brand that many people have never heard of.
>>Check the current best price of the Rockford CPU0207 on Amazon <<
Conclusion:
This may not be the best electric pressure washer on the market today, but it does have some nice features like the dual built in detergent tank system and the hose reel. It is prone to tipping over like all models of this style, but if you can find this unit on sale it may be worth buying, otherwise I would stick to my list of the current best electric pressure washers of 2015