Introduction:
When searching for the best small handheld electric pressure washer There are 5 choices you should really consider. I have taken the time to put together my research in this mini guide so that you can find the power washer that suits you the best. The models below are rated at 1500 PSI up to 1800 PSI and are all around the $100 mark. These are low cost but high quality cleaners and if you take care of them should last at least a few years.
Some people like to buy a new electric pressure washer every year because they are hard on them and they just buy the cheapest one they can find. If you take the time to research what you are buying you can purchase a higher quality unit for the same price as something you plan on replacing every year.
Below is a comparison chart as well as pros and cons, and finally some mini reviews of the top rated small pressure washers.
Advantages and Disadvantages of the best small pressure washers:
super small pressure washers are an excellent choice for many reasons. Here is a list of some of the advantages of a handheld electric pressure washer:
They are small and portable – This allows you to bring them just about anywhere. You can keep them inside your boat or car for quick access at any time. They also store nicely in your garage because they do not take up a lot of space.
They are inexpensive – Most of these units are right around $100. This is a very small investment for a power little machine.
They are low maintenance – Unlike gas pressure washers you do not have to deal with maintaining an engine, adding oil, and gas. electric pressure washers are very easy to use and can get your cleaning job done quickly with less headaches.
They are quiet – Gas power washer are very noisy and you should be wearing ear protection when they are in use. On the other hand, these small electric pressure washers are super quiet and best of all the pumps shut off when not in use with the auto stop technology.
They are eco friendly – Small electric pressure washer do not produce any kind of harmful emissions like that of a gas engine. Some of them are even made out of recycled plastic.
There are some negatives to using a small power washer and depending on your needs you may need to move up into a gas powered unit. Some of the disadvantages of electric pressure washers include:
They do not produce enough PSI or GPM to deeply clean certain applications. Deep stains in cement are almost impossible to get out with an electric pressure washer. You will need much more in terms of PSI and GPM than an electric model can produce. For this reason you may have to upgrade to a gas powered pressure washer.

They have non replaceable parts. If the pump fails you cannot replace it without replacing the entire pressure washer. Gas models allow you to replace just about every part.

They are not fully portable. You still have to have a power source where you can plug in the power cord.
Small Electric Pressure Washer Reviews (2015)
Campbell Hausfeld PW135002AV Review: When it comes to cleaning with water, a garden hose just can't handle the task. Using a pressure washer can get the job done 10x faster and this handheld unit can do just that. It is perfect for getting small jobs around the house done with little effort. Things like cleaning the driveway, patio, deck, fence, patio furniture, your lawn mower and your car can quickly be cleaned. Just plug the unit into an electrical outlet attach the hose and off you go. The PW135002AV 1500 PSI pressure washer is very lightweight weighing in at just 15 lbs and with is ultra compact design you can store in just about anywhere. You wont be able to clean large areas with this unit as it will most likely take you a ton of time, but for the small tasks this will make your life a lot easier than having to deal with a gas unit. It also has a convenient foot pump Continue Reading…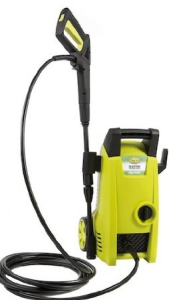 Sun Joe SPX1000 Review: Sun Joe makes the best selling electric pressure washer on the market today in the SPX 3000 and the new and improved SPX 3001. The SPX1000 is the little brother of the 2. It cost less money and has a little less power but overall is very similar in performance. The unique feature is the size and weight. This little guys weighs just 11.7 pounds and is perfect for the light duty jobs around the house. It is powerful enough to clean wood decks and concrete driveways but anything over 25 sq feet should be avoided as it will take you a very long time. If you have something larger you may want to invest in a more powerful unit. The unit is very slow and tedious so do not expect much if you plan on using it for larger jobs. This unit is surprisingly powerful and affordable however… Read More
THE FORCE 1800 Review: The Force 1800 electric pressure washer is a 5 star beast. Everyone who has used this absolutely loves it. It is super low profile and compact weighing in at just 17 lbs. It products on average 1600-1800 PSI but has an IPB (Initial Power Boost) of 2600 PSI. That puts it on par with a gas powered washer without having to purchase a gas unit. Power House International has done an excellent job with their pressure washers and the Force 2000 is on my list of best electric pressure washers as well. Since this unit is more horizontal than vertical it makes moving it a breeze. You can yank on the cord without having to worry that it will fall over. It will usually just slide with you. The Force 1800 power washer is very powerful, compact, and easy to use. It includes a handful of useful accessories and attachments. I would rate this as the #2 best small pressure washer.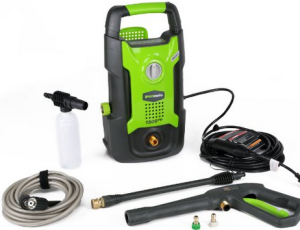 GreenWorks GW1501 Review: If you are looking for a small pressure washer to clean your car this my be one of the best. Not only is it super small and compact, but it also includes a foam cannon which is the perfect accessory for cleaning you car. You can fill up the bottle with your favorite soap and blast your car with foam that deep cleans and breaks apart dirt. This model also works great for cleaning patios and other small surface areas. I love how quite it is and that it weighs only 12 pounds. GreenWorks is not a very well know brand, but is definitely someone you should take notice to. They offer a unheard of 4 year warranty. Most of the warranties you see on other pressure washers are 1 year. Anyone who backs up their product for that long trusts that they have built a quality product. Another major wow factor was that this pressure washer comes fully assembled right out of the box. You can literally start cleaning within minutes of opening the box. The only issue I have with this model is that it is top heavy and is prone to falling over.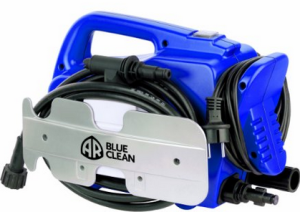 AR Blue Clean AR118 Review: This has to be my #1. It is the smallest pressure washer around that produces 1500 PSI. It is so small and lightweight, and it fits just about anywhere. The number 1 reason why I like the handheld design is that my wife loves it! She will not touch a gas power washer for fear of damaging it or just not being able to start it. With the AR118 she can easily plug it in and attach the hose. A flip of the switch and she is cleaning the patio and washing down the furniture. Any tools or power equipment that my wife can use and enjoy is a perfect investment.
–> Click here to get the best deal on the AR118 Today! <<–
Conclusion:
Now you should have a better understanding of what a small electric pressure washer can do and which models you should focus on finding the best price. If you are looking for my guide on the overall best electric pressure washer you can read my guide. Some of these units are in that guide even though they are part of the small pressure washer family. You may also want to click on the images below to view the best selling pressure washers.
If you have any questions or concerns or would like me to review a newer model that I have not already done please get in contact with me and I will do my best to address your needs. You can use the comments below or click on the contact page.
-Mike