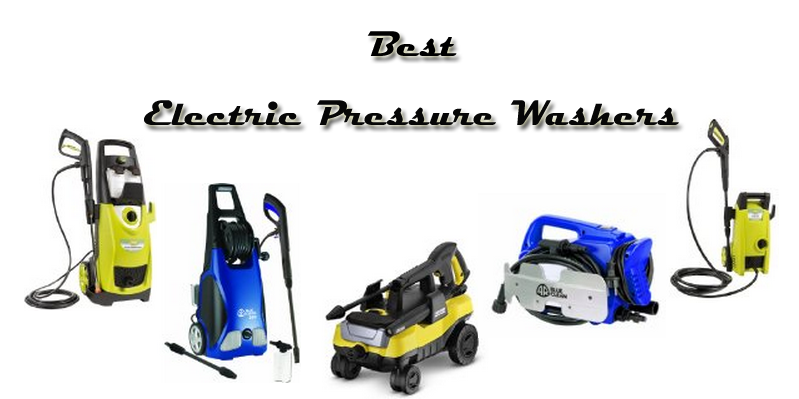 Introduction:
Searching for the best electric pressure washer can be a difficult task. Not everyone has the same needs and there are so many different brands, models, and specs to choose from. I have put together a list of the best selling electric pressure washers on the market for you so can quickly looks at only a few different models to consider. After looking at the comparison chart below as well as some of the reviews you should be able to find the best electric pressure washer for you.
Comparison Chart:
Best Electric Pressure Washers
Here is a comparison table that you can use to find the perfect electric pressure washer.
What are the best uses for Electric Pressure washers?
Electric pressure washers are great for light duty work around the house. They limited in the power that they can produce but are also a lot less noisy. They are best used for washing cars, cleaning patio chairs, and washing light stains.
Types of electric pressure washers:
So what types of electric pressure washers are there? Really there are mainly 2 different styles. You have your stationary models and you have movable models. Most of the electric pressure washers you see with either be stationary or have 2 wheels so you can easily move it around. There is one odd one however and that is the Karcher K.3000 follow me model. This model is the first of its kind and only one that I know of that has 4 wheels that follows you. So many times you will want to move around your pressure washer and it falls over. With the follow me model you can move around fully without having to go pick it up off the floor.
Pros and cons of Electric Pressure Washers:
Pros: Very efficient as they use hardly any water. They are very quiet. They require very little maintenance. They are usually extremely lightweight.
Cons: Not very powerful. Most electric models are rated under 2500 PSI. This is just not enough power to get some of those tough areas clean. You are limited to the length of the power cord. I know you can get a bunch of super long extension cords, but that can be a hassle. Most of them use cheap plastic parts and over time can fail and cause leaks. Speaking of leaks, water and electricity do not go well together so they can also be very dangerous if you are not careful.
Electric Pressure Washer Reviews (2015)
below are quick little mini reviews of my top 5 electric pressure washers. If you want a more in depth review of a specific model just click on it and it will take you to the full review page.
Sun Joe SPX3000 Review – My #1. It features a dual detergent tank. Has the highest rated PSI and GPM to make the highest total Cleaning Units. CU = PSIxGPM. Click here to find the best deals on the Sun Joe SPX3000!
AR Blue Clean AR383 Review -Very similar to the Sun Joe SPX 3000. The reason it is not number 1 is because of the hose spindle. It is very annoying at some times and can take some time to unwind because it gets tangled up. Great brand name and great customer service. This one will please you! Click here to get the best price on Blue Clean AR383
Karcher K 3.000 Review – Awesome little machine. I just wish it has a tad more power. I love that it can follow you around because I am always knocking the stand up models down when I am pulling on them. You won't be disappointed with this one. Click here to get the best deal of the Karcher K 3.000
AR Blue Clean AR118 Review – If you are looking for something super small that you can fit just about anywhere this is the pressure washer to get. It is extremely lightweight and still produces 1500 PSI. At a price of around $100 you really can't go wrong. You can find the best price on the AR Blue Clean AR 118 by clicking here
Sun Joe SPX1000 Review – Another lightweight beast. This one has a 36″ extension wand to help reach those high up places. I love that is is super small and easy to carry or roll. It will get your job done, but it will take some time! To find the cheapest price on the Sun Joe SPX 1000 click here
Conclusion:
As you can see most of these models are very similar when it comes to price and features. After reviewing the 5 models above I would have to say that the Sun Joe SPX3000 is the best electric pressure washer available today. It is reasonably priced and features plenty of power to complete just about any task around your house. I love the fact that it has 2 separate detergent tanks. I like to keep one filled with soap and the other with a degreaser. No matter which one you choose anyone of the model above could be considered the best electric pressure washer.