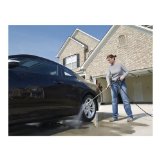 The Powerstroke PS80519 gas pressure washer is available in a handful of different configurations based on the type of engine.
For this review I am going to focus on the cheapest Powerstroke gas model being the PS80519. All of my finding will pretty much be the same for the other models being that the only major difference is the engine. With the larger engine you will get more PSI out of the unit so it will be able to clean things faster and get out tougher stains. Some of the other models also have a built in soap/detergent compartment. This is certainly handy but is not that big of an advantage to me.
Amazon has these other options available:
Here is a quick comparison table about the different models of PowerStroke Pressure washers available. These are considered the best selling Powerstroke pressure washers. There may be other models available like the Costco only PowerStroke Subaru 3100 PSI Electric Start Pressure Washer w/ Battery which you can check out my review here. I also recommend you check out my review of the more powerful PowerStroke PS80544 as well.
PowerStroke Pressure Washers
| Model | Powerstroke PS80519 | Powerstroke PS80533 | Powerstroke PS80950 | Powerstroke PS80995 |
| --- | --- | --- | --- | --- |
| Image | | | | |
| Engine | 140cc PowerStroke Engine | 179cc PowerStroke Engine | 175cc Subaru Engine | 198cc Honda Engine |
| PSI | 2200 PSI | 2700 PSI | 2700 PSI | 2700 PSI |
| GPM | 2.0 GPM | 2.3 GPM | 2.3 GPM | 2.3 GPM |
| Rating | | | | |
| Reviews | Read More | Read More | Read More | Read More |
Comparison table for PowerStroke Pressure Washers
The PowerStroke 2200 PSI Pressure Washer Features:
Outputs 2200 Pounds of pressure per square inch from its small 140cc engine. It will run about 1-2 hours on a single tank of gas.
It is very efficient with water producing 2.0 Gallons Per Minute.

It includes 3 spray nozzle tips as show in the picture below as well as a bottle of oil and a detergent hose so that you can pump out soap and water at the same time

Small form factor with 7″ wheels that can easily push the light weight machine around.

PWMA certified. Pressure Washer Manufacturers' Association products are put through rigorous testing and must comply with certain standards to be certified. Knowing that this model is PWMA certified means that you can trust the build and quality without having to worry.

Product Advantages
Some of the most common benefits of this product consist of:
The cleaning capacity. This machine is perfect for cleaning decks, patios, walkways, siding, cars, furniture, and other outdoor equipment.
Easy to start engine. As long as I primed the engine, I was able to start this unit with 1 or 2 pulls max. It did not require a lot of force to start the engine either. The cord felt sturdy and glided easily.
Conclusion
Overall I think that the PowerStroke 2200 PSI pressure washer is a very good all around unit. It is great for just about any job around the house and doesn't have so much power that it will destroy things when you are not careful. I would rate this a low to medium duty pressure washer and if you need something more check out something with at least 3000 PSI. If you are someone who is just upgrading from an electric pressure washer, you will love the added power that you get from this product.
Click here to get the latest Amazon pricing so that you can get the best price on the PowerStroke PS80519 Gas Pressure Washer
Incoming search terms: