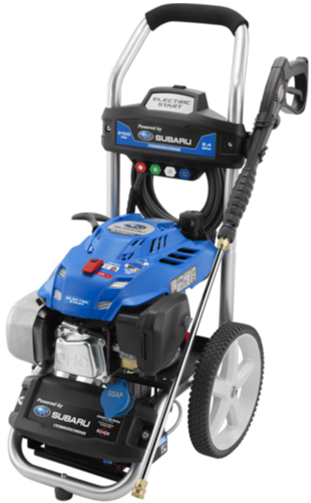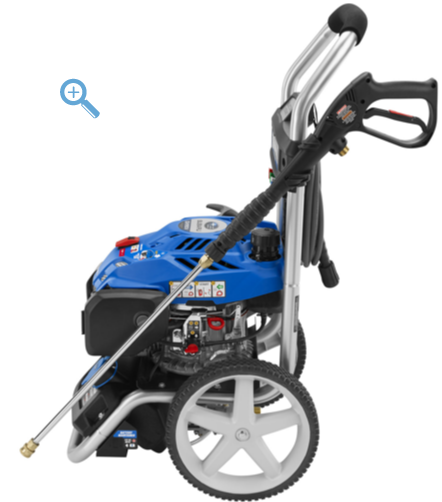 I just picked this pressure washer up from Costco and wanted to share my thoughts on it as well as list information about it as Costco usually takes this information down once they have sold out of this model.
After some research on this model I decided I wanted to try it out. My local Costco stores had all sold out of this pressure washer so I had to drive an hour away to Rochester MN to pick it up.
The PowerStroke Subaru 3100 PSI Electric Start Pressure Washer w/ Battery features 3100 PSI and outputs 2.4 GPM. This model includes 4 different nozzles so that you can tackle almost any project. The blue is used for soap and gentle rise. It has an onboard soap tank that will auto dillute the mixture as well. I just bought a
jug of Zep cleaning soap
and dumped it in. The White nozzle provides a 40 degree angle. The Green provides a 25 degree angle and lastly the Red nozzle provides a zero degree angle that can do a lot of damage if you are not careful.
Coolest Feature – Electric Start
You rarely see any pressure washer that have an electric push button start. This is very convenient as pulling the cord can be troublesome for certain people, especially my wife. She loves that she can just turn it on with a push of a button. There is still the original pull cord in case the battery is dead and the electric start does not work. Having the push button electric start is like having the convenience of an electric pressure washer with the power of a gas pressure washer.
The Motor – Subaru EA190
The Subaru EA190 Vertical Shaft Engine has a chain-driven overhead cam design. The engine comes with durable commercial features including steel rocker arms, heavy-duty piston rings and a cast-iron cylinder liner, all combining to give the engine longer life.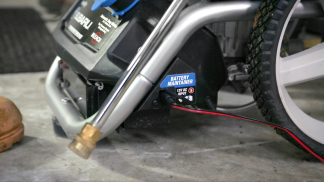 Built In Battery
This pressure washer comes with a built in battery for the electric start. All you have to do is plug it in when you are not using it and it will trickle charge so that it is ready with one push of a button to start when you need it to.
Included Accessories

This PowerStroke pressure washer comes with convenient on-board storage for the 25' high pressure hose and all 4 of the professional-style nozzles; allowing users to easily switch between nozzles and complete their project quickly. It also includes a bottle of oil that you need to dump in at the beginning. The lance is great but I would recommend getting a
longer lance like a 28″ lance
. It makes your life so much easier.
My Overall Review:
I would have to say that for the price I paid and Costco's lifetime warranty this was a great buy. Most pressure washers only have a 1-2 year warranty, but since Costco has a no questions asked satisfaction guarantee warranty, you basically have a lifetime warranty. I paid $300 for this unit and missed the sale that they had a week before. In the Costco coupon book there was a $30 off coupon for this pressure washer. I figured it was still a great deal all because of the excellent warranty.
Starting the PowerStroke Subaru engine is a breeze with the electric start. I really enjoy it even though you have to play with the choke every now and then, but I guess that is expected. Assemble was very easy. All I had to do was attach the arm to the frame, plug in the hoses, add the included bottle of oil and lastly add the gas.
The first use with this power washer was to pressure wash my concrete driveway. I needed to clean it so that I could seal it. With 3100 PSI it did an amazing job at cleaning it. I also used a surface cleaner to finish it 10x faster.
The only thing that I do not like is the included hose it tangled really easily and liked to coil up. I am guessing it will uncoil more over time so its not that big of a deal. I could also just buy a better one, but I will wait until this one fails. Overall I would give this pressure washer a 5 out of 5 stars mainly because it features 3100 PSI at $300 with Costco's lifetime warranty. You really can't beat that.
Here are some PDF documents in case you lost yours.
PowerStroke Subaru 3100 Costco Manual
PowerStroke Subaru 3100 Costco Quick Start Guide
PowerStroke Subaru 3100 Costco Replacement Parts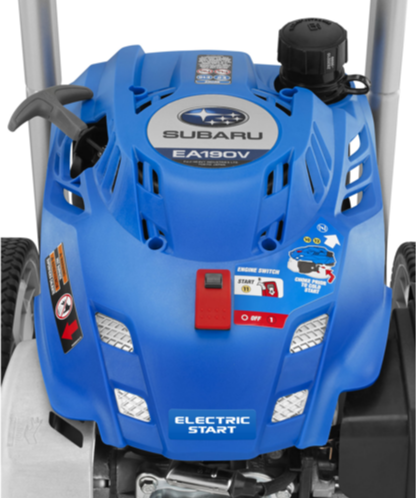 Incoming search terms: