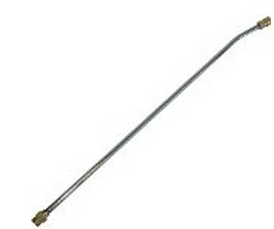 When it comes to pressure washer wands there are a handful of different options out in the market. Pressure washer wands are a crucial aspect and most units come with something that is pretty cheap, generic, and small. A long pressure washer wand or extension wand will make a huge difference in your cleaning routine. Often times they are called lances as well. There are a lot of different uses for pressure washer lances so I will go over the benefits of them and give you a list of the best lances as well.
Some of the benefits of a pressure washer extension wand include:
Deep clean those hard to reach places like gutters that are very high up. No longer will you have to use a ladder and worry about falling off. You can also wash away the dirt with ease from the second story of your house or clean your eaves.
Save your back when using a surface cleaner. When I fist used my surface cleaner I was bending over since my stock wand was very small. After adding a 3 foot pressure washer extension wand I was saved. I could stand up straight and I felt like I was vacuuming my driveway with ease. It actually made cleaning fun and I was not soar the next day.
You do have to be careful when selecting the right extension wand however. Some of the models are just extensions that attach to the lance you currently have. They do not replace the entire wand that you got with your washer. This certainly extends the length, but it may be way too long for your needs. Be sure to check out the description of the wand and see what fittings it has. You will need to know if you want an extension or a complete replacement. Sometimes you will be able to do both and some units will not allow this without getting other pressure washer fittings.
Best Pressure Washer Wand Comparison Table
When it comes to choosing the best wand or lance there are a handful of options out there. As long as you are looking at ones that are a universal fit you shouldn't have any issues with compatibility. The universal models will come with all the pressure washer fittings you need in order for an easy quick connect.
Types of Pressure washer wands:
When comparing pressure washer wands there are many different types to choose from. There are lances that are made to extend your current wand, ones that are bent at different angles, and some job specific ones like a gutter cleaning attachment. Having a slight bend at the end of the wand is great when you are using surface cleaners. Having a right angle bend makes cleaning gutters and eaves a lot easier. When you decide on what you need to clean you can better determine what type of wand you need for the job.
Pressure Washer Wand Reviews (2015)
Briggs & Stratton 207785GS review: This stainless steel and brass pressure wand is 34″ long and is a great length for just about any cleaning job. It fits and works perfect with just about any 15″ surface cleaner. The connectors and fittings are high quality brass and the heavy gauge steel is very durable. You will notice it is much heavier than the cheap one that probably came with your pressure washer. If you are a taller person, a 30″ or longer lance is something you need to try out.
–> Click here to check out the Briggs and Stratton 34″ pressure washer entension <–
Powerfit PF31011A review: The Powerfit PF31011A is the most recommended and purchased pressure washer wand for those that purchase the Powerfit Surface Cleaner. It is a perfect cleaning combination. It is very long coming in at 3 feet. It includes a quick-connect coupler set that will convert almost all threaded trigger handles and spray wands into a fully functional quick connect system. Since this is an extension wand you can use the adapters to add 36″ ontop of your existing wand to really reach those hard to reach spots. This is an extension so you will most likely need another fitting to use your stock tips without your stock wand. Click here to read more reviews.
AR North America AL248CB review:  If you are looking for an extension wand, AR North America makes some high quality lances. The AL238CB is a 24″ wand that is more of a replacement wand than an extension you should buy. If you have a wand that works fine, buying one that is only 24″ is not much of an upgrade. However, if you are in the market for a new one, this is an excellent wand at a great price. I would tell you to purchase this if you have a cheap plastic wand that came with your electric pressure washer. This will perform far better and last a whole lot longer. It is super sturdy but short. Since this is a universal fit it will pretty much work on anything with the standard M22 fittings. Read more
NorthStar NND20004P review: This is the very first attachment I bought for my power washer. I wanted to clean my driveway using a surface cleaner and having an extension so that my back was not soar was something I wanted. I choose this model Because it is sold by Northern Tool and has a slight bend at the end so that it could work perfectly with the surface cleaner. I felt that 28″ was more than enough since I am not that tall to begin with (5′ 9″). My original lance was only 15″. This lance was not that expensive but I may pick up an even longer one to clean some higher areas of my house in a few years. It is really not that dirty right now.
–>Click here to get the best price on the NorthStar NND20004P<–
Briggs & Stratton 6206 review: Most of the pressure washer wands that you see are going to be 3 feet and under. The Briggs and Stratton 6206 comes in at a massive 9 feet of extension. Now you can really reach the top of you 2nd story house. It is broken apart into 3 different 3 foot extensions. This allows you to use the right length for the right job. When you have all 9 feet attached and trying to clean a roof your arms can become tired very quickly. It is very top heavy. They should include some type of brace or harness strap that helps you hold it up, but I am sure some of you are very creative and can design something to use. I absolutely love this attachment. Being able to clean to top of the house without having to climb on a latter is great. It can get a little dangerous climbing on ladders while using a pressure washer. This accessory is not cheap however. Think of it as buying 3 separate extensions because in the essence that is what you are really doing.
==>Click here to check out the current price on Amazon<==
Conclusion
After reading about the best selling pressure washer wands, you should be able to determine the best pressure washer wand to fit your needs. Just figure out what size you want based on your height and how high you need to reach or how long of a handle you need to sweep using a surface cleaner. If you are unsure of which one to get, then just check out the Briggs & Stratton 6206 set so that you can decided just how long you need with an all in one kit. Personally my top pick is the NorthStar NND20004P but all of them are excellent choices.