While looking for a guide to power wash a driveway I found that people were using surface cleaners to cut their time in half. I decided that I wanted to get one and try it out since I was going to be cleaning a large concrete driveway and then sealing it. Upon my research I found that there are a few models available and they all are pretty much the same thing just branded differently.
I ultimately decided on the PowerFit PF31023 Surface Cleaner based on the reviews that I read. I saw that Yamaha makes a model that is the exact same thing that had excellent reviews but it costed more money. There are also a few other models that have a 14″ surface cleaning area like the Karcher surface cleaner and the Briggs & Stratton surface cleaner. I wanted to save a few dollars and I wanted the 15″ model so I went with the PowerFit brand.
I am not sure how much faster or convenient the extra inch is but I figured hey, the larger the area the less amount of time it will take me. The unit came fully assembled in the box. I just had to take it out and attach it to my wand since it already has a quick connect attachment, hooking it up was a breeze.
I would recommend getting a larger wand if you are going to be scrubbing and are taller than 5 foot. Most of the pressure washer wands that come with your machine are very small and bending over for extended amounts of time can really take a toll on your back. I picked up the Powerfit PF31011A Extension Wand which is 36″ long. Trust me your back with thank you and it works wonders for other tasks like cleaning high places like your second story of your house.
The reason this unit makes cleaning so much faster and more efficient is that all of the water is contained and pushed around. You can see from the picture above that it has a rotating dual head nozzle. when you pull the trigger of your pressure washer it spins and cleans producing an even finish very close to the surface. If you were to use just a pressure washer wand with a fan nozzle you would never be able to get completely even results as you move unless you were some kind of robot.
I found that I could quickly just glide down the driveway and you could quickly see the difference that the surface cleaner made. Check out these results: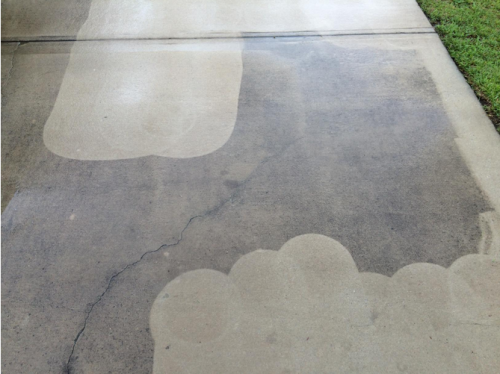 When using the surface cleaner I found out that it was easier to pull the device down the driveway instead of pushing it. You will notice that if you do not have a powerful pressure washer with at least 2800 PSI you will see some streaking. Also if you leave it spinning in a certain spot without moving it you will notice the circles. Always be sure to keep moving and you will get excellent results. I would also recommend that you take your pressure washer and do a quick rise to get rid of the majority of the dirt and large debris. Then you can go and do the deep cleaning with the surface cleaner to finish up.
Overall I would have to say that this is on my list of must have pressure washer accessories. When it comes to cleaning your sidewalk, driveway, deck, porch, or patio, this is highly recommend and I would give it 5 out of 5 stars. It makes pressure washing fun and it cuts your time cleaning immensely. Ne sure to check out this link to find thebest price on the PowerFit PF31023 Surface Cleaner.
Incoming search terms: