The Sun Joe SPX3000 is the Number 1 best-selling pressure washer on the Internet. Granted it is an electric pressure washer. If you are looking for the number one selling gas pressure washer on the Internet you will want to have a look at our review on the Simpson MSH3125-S MegaShot 3100 PSI 2.5 GPM Honda GCV190 Engine Gas Pressure Washer
What Makes Sun Joe Pressure Washers a Great Machine to Have? 

The thing I appreciate about any new toy is how fast I can set it up and play with it. It is probably the best part of getting any new item. Sun Joe SPX3000 is designed such that it is basically ready to go right out of the box. It is very easy. All you need is a Phillips head screwdriver and screw in 6 screws to connect the handle. It basically slides into place and then you attach it with 4 screws. The other 2 screws are used to attach the spray want protector and attach the high pressure hose holder. All of this should take less than 5 minutes to complete. Very Simple! Just follow the included instructions if you need help.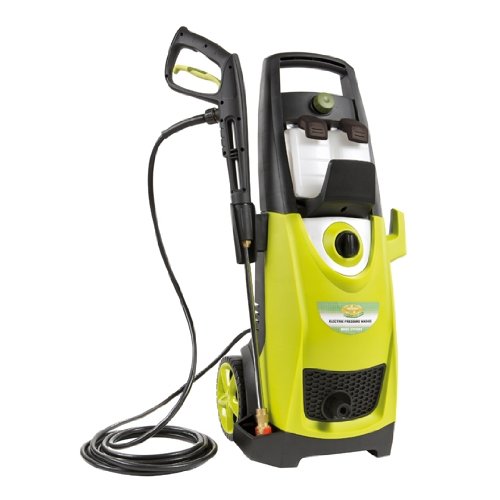 The Sun Joe / Snow Joe brands are not really well known like Karcher but this machine is still the number 1 best selling electric pressure washer on Amazon.com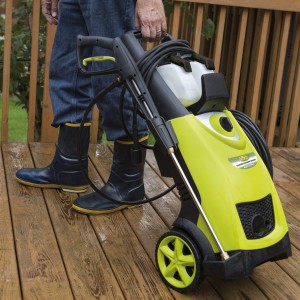 The construction of this machine consists of very durable plastic. It is also quiet, ensuring that the neighbors have nothing to complain about.
In terms of usage, this is the perfect pressure washer to get for a first timer. If you are planning on getting Dad or someone else a gift, this is a great option and something he will truly enjoy.  It is so easy to use that even a young toddler could use it. (I do not recommend that though. Always be sure to follow safety precautions and never point a pressure washer at anyone. I tread a pressure washer the same way I would with a firearm.)
What Do You Get from Your Sun Joe Pressure Washer?
The product comes with a Powerful 14.5 Amp 1800 Watt Motor. Which is enough power to do almost any light duty job without having to invest into a gas pressure washer that will be more expensive and harder to maintain. It features 2030 PSI at 1.76 GPM. The machine is in the under $200 category which makes it very enticing to buyers. You also receive 2 detergents tanks that let you switch between 2 different types of detergent at once. This is very useful if you need soap and a degreaser, you no longer have to clean a tank and switch to the other liquid. Now you just flip a switch. Very handy! Another notable feature included is the TSS (Total Stop System) trigger that automatically shuts off the pump when the trigger is not engaged.
This pressure washer is ideal for the average homeowner who wants to do basic cleaning outside of their house, including washing cars, decks, houses, driveways and more.
Conclusion
The Sun Joe SPX 3000 is by far the best electric pressure washer for the money out there and the best-selling power washer product you can find online. This pressure washer is available at Amazon. This is the best pressure washer for a limited budget but you could also check out some of our other electric power washer reviews if you are on a limited budget and looking for an affordable low cost pressure washer.
You can view a comparison table of all the top pressure washers by clicking here.