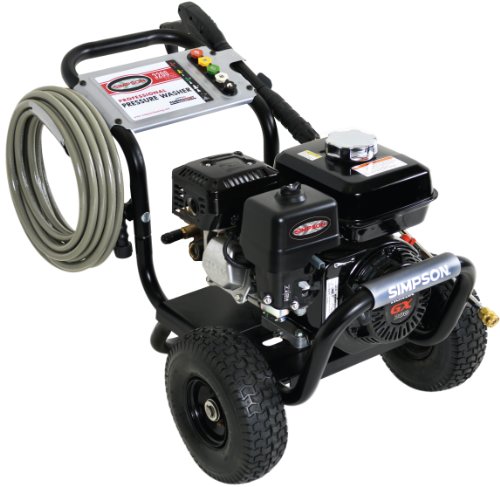 Simpson makes some excellent pressure washers and the PS3228-S is one of those. This is one of the best-selling gas pressure washers around. Let me start out and tell you that this is probably the best gas pressure washer you can buy for the money that features at least 3100 PSI. This Simpson PS3228-S actually features 3200 PSI at 2.8 GPM. If offers one of the best motors you can buy which is the Honda GX series. These motors are very well known, desired, and reliable. I would have to say the only downfall of this  unit is the Simpson brand. Some people have had bad experiences with them missing parts. Even though they may make mistakes here and there, their customer service Usually fixes the issues in a timely fashion.
Features:
The Simpson PS3228-S overall gets 4 out of 5 stars and here is why. It offers high end parts at a low cost. This pressure washer is under $500 most of the time and includes the Honda GX200 OHV engine. This engine is commercial grade, unlike the consumer grade GV Honda engines. It delivers high output that will last a lifetime. You engine will most likely outlast the pump. The Honda GX 200 OHV has an estimate run time of about 1 hour before you have to fill the tank with gas if you are holding the trigger the entire time. If you are using it intermittently, you can expect it to run around 2-4 hours before you need to fill it with gas.
Speaking of the pump though, the Simpson pressure washer comes standard with one of the best pumps you can buy and let me tell you that the pump is the most important part of any pressure washer. The Triplex pump has ceramic coated pistons and powerboost technology that provides a much better and more powerful cleaning performance than a standard pump using the same engine horsepower.
Other important features of the Simpson PS3228-S include a welded steel frame that makes this model very durable. It also includes 5 stainless steel quick connect nozzles in your standard degree options: 0, 15, 25, 40, and soap nozzle.
Pros:
Quiet – quieter than some of the other engines I have heard.
low profile – can easily fit into small places for storage like a van shelf if you are using it for business.
Lightweight – can easily lift it out from the van and move it around.
Price – great price for the features you get.
Great Engine – Honda GX200 OHV is one of the best.
Excellent Pump – AAA high quality Triplex Pump
Cons:
Simpson customer service can be difficult at times to work with
Conclusion:
Like I said I give this power washer a 4 out of 5 star ratings simply for the fact that it one of the best selling gas pressure washers for a reason. It has excellent high quality components, but I have to knock of a star because I am just not that fond of the Simpson brand. Hopefully overtime they become a better company but for the components and price, I would have to still say this is a must buy pressure washer if you are looking to do a lot around the house or even use it for business use. It will get all the jobs done that you need to complete.
The engines is covered by a 3 year warranty and the pump is covered by a 5 year warranty. This is something that is very important to a lot of people considering the price you are investing.