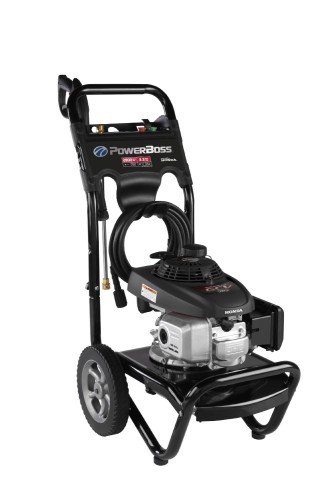 The PowerBoss 20574 is a gas operated pressure washer which can be used for a variety of purposes, both in outdoor and indoor situations.
It could be as simple as cleaning your car to cleaning your whole driveway. It is easy to use as your regular garden hose, but it gives you more power while using about 80% less water. This gas powered washer is more powerful than its electric counterpart, and it tends to be more durable as well. It is a favorite among contractors and professionals due to the flexibility that it offers, but with all engines comes maintenance.
Specs:
Model: 20574
GPM: 2.3 Gallons Per Minute
PSI: 2800 PSI
Pump: Maintenance free axial cam
Engine: Honda GCV160
Detergent System: YES Detergent injection system
Nozzles: 0, 15, and Soap.
Warranty: 2-year limited consumer and 90-day limited commercial warranty.
Product Features
PowerBoss is efficient, strong, and it gives you a perfect clean to wherever you want to use it. It has a large fuel tank that will allow you to complete projects without having to constantly re-fill. To give you a better cleaning experience, PowerBoss provides a detergent injection system which mixes a cleaning product into the stream of water. A maintenance-free axial cam pump is standard in this unit and offers higher pressure output with the unique easy start technology for low-effort starting.
Pros and Cons
One of the biggest pros of the device is the mobility that it offers since it does not need to be connected to a power outlet to be used. This helps largely in outdoor projects. The easy start ensures that even a beginner of using this product can operate it without a hassle. It is not merely a water hose, it has enough power in the system to infuse an extra cleaning detergent into the water stream. This greatly reduces your overall cleaning time.
Cons of using this device may vary due to how familiar you are using gas devices. First of all, they can be rather big in size compared to electric devices. Second, you have to deal with maintaining the engine each season and throughout using it. Gas spills, and other mishaps may happen as well.
Lastly this unit only has an output of 2800 PSI and a standard Axial cam pump. 2800 PSI is more than enough to get most things done around the house, but if you need to clean deep stains in concrete, you are going to want to get something that is at least 3000 PSI.
Final Verdict
Everything considered, the PowerBoss 20574 Gas Pressure Washer gives a good value to your money with its durability, flexibility and the powerful clean it gives. The new features they have added will bring you more convenience and perfection for the clean. However, it might not be the most user-friendly device especially for those who are not familiar in working with similar devices. If you already have gas powered equipment, the PowerBoss 20574 gas pressure washer will definitely be a great solution if you are looking for a low cost gas model.
Overall, it deserves a rating of 4 out of 5.
>>Click Here to get the best price on the PowerBoss 20574 pressure washer<<