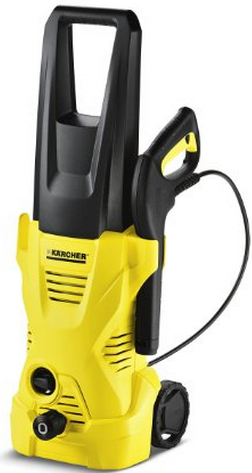 The Karcher K 2.300 is the 4th best-selling electric pressure washer. This is the cheaper version of the very popular Karcher K 3.000 that has 4 wheels.
Being that it is cheaper, it comes in the standard 2 wheel form factor that is prone to tip over. It features 1600 PSI at 1.25 GPM but still gets the job done about 50% faster than the competition due to the included Patented DirtBlaster Wand, which is a $30 value. Also included is the Vario Power Spray Wand which allows you to adjust water pressure and quickly dispense your soap and chemicals in a hurry.
1600 PSI will generate up to 30 times the pressure of a typical garden hose and is the perfect tool for keeping your vehicles clean of dirt and and grime If you are looking for something that is very light weight and does not take up a lot of storage space than this is a great model. It weighs in at just 10 lbs and is one of the lightest pressure washers I have reviewed.
Always remember to never turn on an electric pressure washer without water running to the machine otherwise you are asking the motor to do work and there is nothing there to compress which in turns damages the pump. Most people that have negatively reviewed this machine state that it breaks easy and it is most likely due to user error.
The Karcher K 2.300 is an ideal pressure washer for any garden or home but not strong enough really for the industrial use that others may need. It is very easy to use and even the younger kids could use this piece of equipment.
If you want to see a comparison of all the Karcher Electric Pressure Washer Click Here
Conclusion:
At around $100 the Karcher K 2.3000 is still an excellent choice if you are looking for a low cost pressure washer. My favorite feature has to be the self priming, siphon capable pump that allows you to draw water from a standing or a collected water source. The best use case would be to use this to take free rain water from a water barrel. I would however recommend paying a bit more for Karcher's tow behind K.3000 pressure washer model for the convenience and greater PSI. I love that Karcher is a great brand and they make excellent pressure washers so no matter what you can't go wrong with this model unless you specifically need more than 1600 PSI to get your job done.