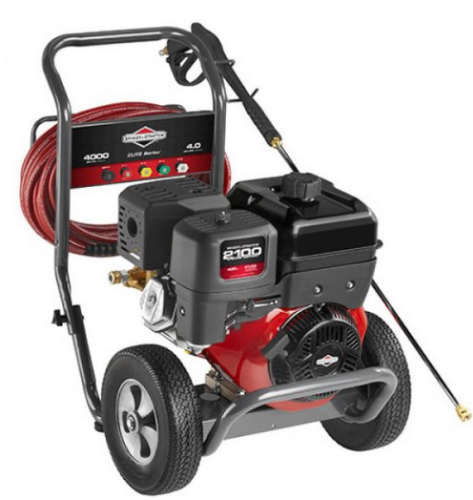 reteks.ru
If you are looking for the best medium-duty pressure washer for your home, then the Briggs & Stratton 20507 is the right one for you. It is the most powerful pressure washer from Briggs & Stratton's Elite Series, which is the company's category for medium-duty pressure washers that have been designed to allow users to save time on small projects, and at the same time allow them to take on larger ones, such as cleaning sidings, fences, and driveways, just to name a few. The Briggs & Stratton 20507 has been designed to make life easy for the users with its rugged construction and power.
PSI: 4000 PSI
GPM: 4.0 Gallons Per Minute
Pump: Triplex Plunger Pump
Engine: Briggs and Stratton 2100 series OHV 420cc
Detergent System: YES – detergent injection system
Nozzles: 0, 15, 25, 40, Soap
Warranty: 2-year limited consumer and 90-day commercial warranty
Some of the unique features of the Briggs & Stratton 20507 include the automatic detergent infuser. It allows you to use detergent directly from the bottle and it premixes the correct ratio for you before spraying, which results to a much simpler cleaning experience. It also comes with five easy to connect spray tips.
It has a high-temperature thermal relief valve, which removes overheated water in order to protect the pump. You don't need to worry about the pump overheating because of this safety feature that the company designed for the 20507. Since it uses one of the best pumps you can get, you will not have to worry about anything and this machine will last you for years.
The Briggs & Stratton 20507 is a top-of-the-line pressure washer with an OHV engine. It comes with a 50-foot hose and five spray tips to provide you with impressive cleaning power, versatility, and performance. And as you can see from the review, its cons are negligible and unimportant. And because of Briggs & Stratton 20507's overwhelming features, we give it five out of five stars. This is the best pressure washer I have reviewed in the mid duty range.