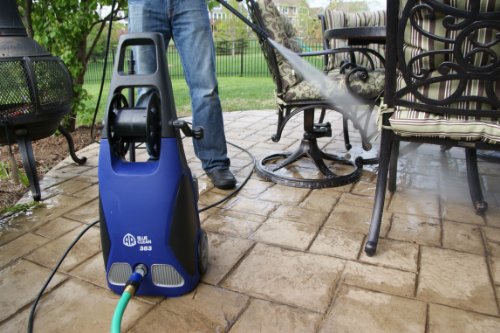 The AR Blue Clean AR383 is on our list as the second best-selling pressure washer.
UPDATE: It is currently the Number 1 best selling pressure washer on Amazon.
–> Click here to get the best deal on the AR383 electric pressure washer <–
AR North America is a well know brand in the pressure washer category. Their motto is "First Choice When Quality Matters," and I would have to agree with that. Even though most of their pressure washers I have reviewed are lower cost models, they do feature excellent build quality and I feel like you get more value for your money. They have been in business for over 50 years and assemble both residential and Industrial machines.
The AR Blue Clean AR383 is an electric pressure washer that features 1900 PSI at 1.5GPM. Since this is AR North America we are talking about you get one of the best pumps around being an Annovi Reverberi Triplex 3 axial-piston pump. Like I say in all of my reviews, the pump is the most important thing of any pressure washer. Since this unit is only using 1.5 gallons of water per minute, you are saving about 80% water verses your standard garden hose.
The full unit is made out of 3 components: Copper, Plastic, and Aluminum which presents a rugged design with excellent build quality. Here is my take on the overall unit:
Pros
Very lightweight – easy to move around. I believe it weighs only 27lbs.
good power for an electric washer. You can easily clean your car, driveway, deck, and more.
low GPM helps save you water
Cons
The plastic hose adapter can leak at times. I found that if you go and get a solid brass male to male hose adapter you can fix the problem completely. Most of the negative reviews are due to this problem. Plastics never seem to hold up with water so it is best to use brass when possible. If AR North America was to switch this part out they would have to raise their price. Luckily if you do have a leaky one you are covered under a 1 year warranty and they will replace it for you.
This is an UPDATE to the leaky adapter. They now include a new leak-free part in the box. Great Customer service, so all of the negative reviews that you see should be fixed with the new included part. If you purchase one that doesn't have this part just call them up and they will send you the new leak-free part.
Conclusion
If you are looking for an electric pressure washer I would highly recommend this or the Sun Joe SPX3000. They are both a great value and have thousands of happy customers based on all reviews. Now that the AR Blue Clean 383 comes with the new part to fix the leaky hose adapter I would have to give it 5 out of   5 stars so check it out.