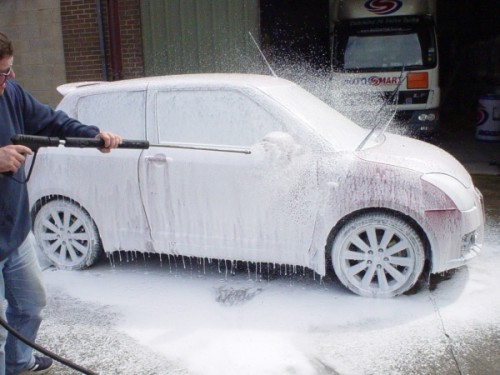 When it comes to cleaning your car, a car pressure washer can be very helpful. Not only does using a pressure washer make cleaning your car faster it is usually more efficient as well in regards to water use. Water preservation is something that not a lot of people think about, but in some locations is extremely important.
Today I wanted to share with you the tips and techniques that I use to wash my car with a pressure washer. I will go over step by step what I do and what other tools I use.
First lets get a list of supplies that you will need. These include:
A car or truck that needs cleaning.
A pressure washer. This can be either gas or electric.
A hose. Obviously we need a source of water to clean the car.
Soap. Depending on how dirty your car is and how you want to clean it, you may need specific kind of soap for best results.
Towels. I prefer to use a bunch of microfiber towels so that they do not scratch the paint and leave swirl marks.
The next list of items are optional buy highly recommended. It makes cleaning your car with a pressure washer so much easier.
snow foam specific soap. I prefer to use Chemical Guys CWS110 Honeydew Snow Foam Car Wash Soap and Cleanser. Not only does it produce very good foam but it smells amazing.
Cleaning your car with a pressure washer
OK, now that you have all of the supplies lets get started. I like to move my car to the center of the driveway so that I do not get soap all over the grass. Even though it is probably not harmful to the grass I rather be safe than sorry and have yellow grass on the side of my driveway.
If you have never used a foam cannon before it is actually a very simple process. Just fill up the bottle with water and about 2 ounces of Honeydew snow foam car wash soap. Using the quick connect feature of the foam cannon attach it to the lance of the pressure washer or directly to the pressure washer gun. Start your pressure washer and pull the trigger.
A nice thick foam will be shooting out and you can adjust how thick it is or how watery it is with the adjustable nozzle. You can also set how much of a spread you will get as well. I like the largest fan as possible and the most foam as possible. Now just coat your entire car with snow foam so that it is completely white. Once finished shut of your pressure washer and let the soap work. I typically leave it on the car for 3-5 minutes. Be sure that it does not dry up though. If it is a really sunny day you may have to keep adding more. I try to always wash my car on an overcast day so you do not have to worry about the sun.
While the car is soaking in the soap I like to take that time to clean the foam cannon. You want to fill up the bottle of water with clean water and run it through. Make sure you get all of the soap out so that nothing get corroded.
Rising your car with a pressure washer
After you have waited about 3-5 minutes and let the soap break down the dirt it is time to use your pressure washer to rise all of the soap off. Make sure you connect your highest degree nozzle that is not a soap nozzle. For me that would be the white 40 degree nozzle. We want to just rinse our car off, not take of the paint. Make sure you never get super close to your car with a high powered pressure washer. Using an electric pressure washer is always the save type of power washer to use when cleaning a car.
Drying your car after washing it
Once no more soap can be seen shut off your pressure washer and quickly grab your microfiber towel(s) and start drying. We do not want any what to dry on the vehicle or you will notice water spots and your car may look even dirtier than it was before you washed it. Usually I like to pull my car into the garage and dry it there. That way I know the sun is not beaming down on the car and drying it faster than I can. If you do notice certain areas drying faster than you can wipe them down then take your hose and soak it some more. Drying the car is the part that takes the longest but if you have a ton of microfiber towels you can quickly just grab a fresh one and reduce your time. I like to have a separate microfiber towel for each panel of the car.
Final Touch-up
Once everything is dry you may want to apply wax if you car needs it and tire spray. I like to make sure that my tires are completely black after a fresh wash. It makes the overall appearance really stand out. So there you have it some written instructions on how to wash your car with a pressure washer. If you have any questions or comments be sure to contact me and I will do my best to help you out.