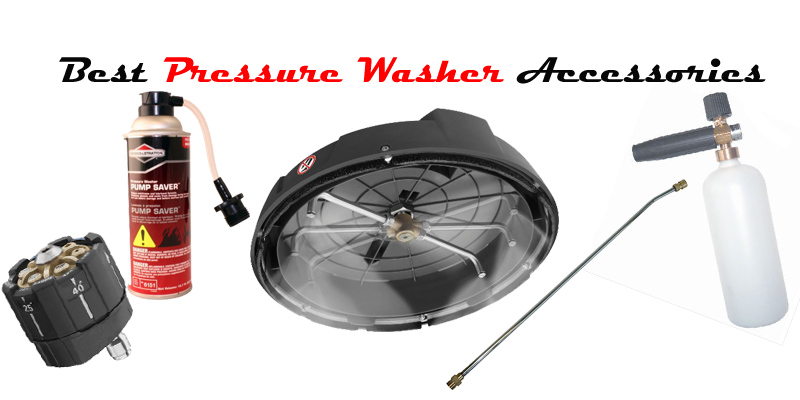 From my experience and research I have found that these are the top pressure washer accessories that will work with just about any pressure washer. Some of the items are niche specific but I find that they all help dramatically reduce the time I have to power wash and make pressure washing a surface a lot easier.
Surface Cleaner: PowerFit PF31023 Surface Cleaner, 15-Inch This is my number 1 most recommended accessory. I actually bought this before I even owned a pressure washer. I got it to clean my driveway so that I could seal the concrete without leaving any dirt or stains behind. I knew that I was going to either rent a high powered gas pressure washer or I was going to borrow one from a friend. These are fairly cheap and will make pressure washing a driveway way easier.


Longer Pressure Washer Lance: NorthStar Pressure Washer Lance – 4000 PSI, 12.0 GPM, 28in.L, Model# NND20004P Most of the pressure washer lances that are included with your machine are small and if you are going to be using a Surface Cleaner, it helps to have a longer lance so you do not have to bend over and strain you back. Also having a longer lance helps you reach higher places. I like the 28″ lance that has a slight curve at the bottom. It works great with the Surface Cleaner!


Pressure Washer Pump Saver: Briggs & Stratton 6151 Pressure Washer Pump Saver Anti-Freeze and Lubricant Formula, 10.7-Ounce This stuff is amazing and is super easy to winterize your pressure washer. All you have to do is screw it onto your pressure washer's pump and spray. It will lubercate it as well as apply antifreeze all in one. It is so easy to use and only takes a few minutes to apply. If you want your pump to last as long as possible it should always be properly stored and Pump Saver really is a life saver.


Pressure Washer Foam Cannon: Professional Foam Lance Adjustable with 32 oz. Bottle If you plan on washing your car with your pressure washer, you will want to invest in a foam lance or foam cannon. This amazing little bottle will quickly attach to your lance and allow you to foam wash your car. You car will be completly white with soap and you let it sit for a little bit so the soap can go to work. After a few minutes of the soap soaking on your car just pressure wash it off with some water and then dry. It will leave amazing results and will allow you to wash your entire car very quickly. This foam bottle is not made just for cars though. You can use it for just about anything that needs a good soapy cleaning like driveways, roofs, and siding.


6-in-1 Spray Nozzle for Pressure Washers: Powerfit PF31005A Quick Connect 6-in-1 Changeover Spray Nozzle for Pressure Washers Some pressure washers do not come with all of the nozzles you need for doing certain jobs. I like to use the 6-in-1 nozzle because it has every nozzle I need all in one and I don't have to go searching for the one I want. I know I have lost a few in the past. I just quickly turn the dial and can change my spray pattern. The patterns include 0 degrees, 0 degrees with soap, 25 degrees, 40 degrees, soap spray and rinse.