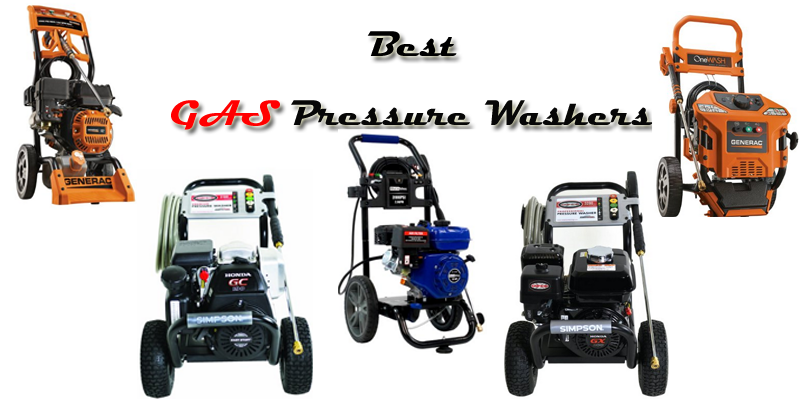 When it comes to choosing the best gas powered pressure washer there are a few things that come to mind. Which one is worth the money? Does is have enough power to handle all of my cleaning jobs? Do I really need a gas power washer or will electric work for me?
Luckily I have answered all of these questions and have put together a comparison guide of the best selling  gas pressure washers. I have compile my findings into a quick and easy to read comparison chart as well as gone more in-depth with each model in regards to features, specs, and an overall review.
Please be aware that these are the best selling gas pressure washers that are intended for home use. Obviously there are better models for commercial use and I will get to those at a later time.
Comparison Chart:
Best Gas Pressure Washers
Here are the top 5 best rated gas pressure washers
I know that I have listed only 3 brands, but those brands are dominating the consumer grade pressure washer market. They are affordable, reliable, and most importantly are built to last.
What are the best uses for gas power washers?
Having more power is crucial with regards to time and how clean you can get the surface. Dirt and oils that get embedded into surfaces like concrete, cement, and wood can be very tricky to get out with hand scrubbing and chemicals. You may have even tried an electric powered washer and realized you will never get it to look completely new.
I would have to say that the reason you would want to get a gas engine is to clean deeply stained items like a concrete driveway, sidewalk, or patio. You will also want more power as well as a wand extension to reach the second story of you house.
Lastly, Portability is something you need to factor in. Electric pressure washers are not portable. You are limited to their power cord, and yes I know you can use an extension cord, but sometimes that may not be the case if there is no outlet in site. So if you need to take a power washer out in the middle of nowhere lets say you have a plot of land for hunting or farming and you have a tree house far away with out any electricity. Will a gas unit you can clean it, an electric unit will not be able to get there.
I am sure you can think of a lot of other uses for a gas pressure washer over an electric model and this is why you are researching gas units. Am I right?
Advantages and Disadvantages of Gas Pressure Washers:
Pros:
More power
Higher GPM and PSI rating
Higher CU rating. PSI x GPU = CU. More cleaning units allow you to get the job done faster and cleaner.
Portable
Can adjust PSI and GPM on some models.
Cons:
Noisy
Expensive
High Maintenance
Requires fuel to operate
If not stored correctly you can damage the unit. Any time you are storing for an extended period of time or for the Winter, you should use a pump saver.
Best Gas Pressure Washer Reviews (2015)
Going off of my comparison chart above you can see some of the differences between the 5 models. I wanted to give you a short mini review of them as well so you can base your decision around what I have to say about each one. Again, these are just the 5 models that are the best selling on Amazon. There may be other gas powered cleaners that are better and if you would like me to review those please let me know in the comments below or do a search in the upper right hand corner. I may have already reviewed your requested model.
SIMPSON MSH3125-S Review:
Of the 5 models, this is my #1. Simpson makes some quality pressure washers and uses quality parts, but there has been some issues with customers not receive parts inside the box. How this happens is beyond me, but most of the time they will correct their mistake and fix it right away. So some of the negative reviews you see are from those people. I too would be extremely upset if I purchased something and it was broken out of the box. Mistakes happen and that is just part of life.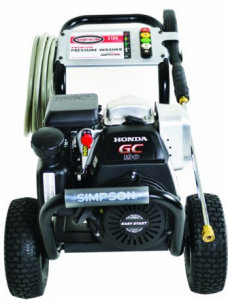 The MSH3125-s offers 3100 PSI which is a perfect number to get just about anything done around the house. I recommend that you use at least 3000 PSI to properly clean a concrete driveway. It's power source is backed by a highly desired Honda GC 190 premium residential grade motor. Since it is Honda, you know it is well made and high quality. Even though the Honda GX motor is more desirable, anything that I have the has the word HONDA on it has lasted longer than it really should.
Attached to the engine is an Axial Cam pump that is very efficient and puts out 2.5 Gallons Per Minute. It features a thermal relief system so you don't accidentally overheat the pump and burn it out.
Overall I would have to say that this Simpson power washer is very easy to use – Starts up in 1 or 2 pulls every time- and very durable and dependable. It is super powerful and will work wonders for you around the house. As long as you get a fully functional one right out of the box you wont have any problems for a very long time.
Simpson's MegaShot series is very popular and is the perfect pressure washer for any DIYer. (Click here to get the Best Price on the Simpson MSH3125-S)
GENERAC 6602 Review:
The Generac 6602 is a BEAST. It has a 212cc OHV engine that is rated best in class for power and is one of the largest around. It puts out 3100 PSI at 2.8 GPM. Again, even the GPM is higher than you find on most of the units in this price range. If you live in California be careful, this model is not CARB compliant and cannot be sold there.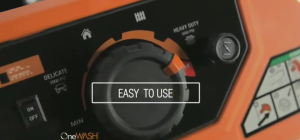 Not all of your gas pressure washers have an option to adjust the power on the fly. The 6602 has a variable pressure control that lets you adjust the intensity. When you are pressure cleaning a car, you want to make sure you have very low pressure so you do not damage the paint. – This is one of my favorite features of this unit. What is really cool is that there is actually a dial on the unit that that you can turn based on your specific cleaning task. You can choose Car/Boat/RV (200PSI), House (2500 PSI), Deck/Fence (2800 PSI), and Brick/Masonry/Driveway (Max PSI 3100). Allowing you to adjust the knob for safe and effective cleaning is it's best selling feature!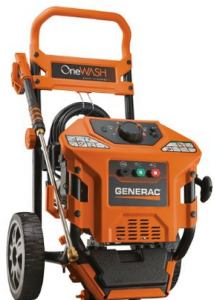 This power washer also has an onboard soap tank that includes a drain as well. This is handy so that you can quickly clean up and not leave soapy residue that may start to smell or corrode.
Lastly I would of gave this unit 5 out of 5 starts, but there seems to be some issues with packaging and loose hardware in the box. The unit I got to review had the zip lock bag open up and pieces spill out inside the box. Not a major deal for me as everything was still functional but there were a few scratches, nothing major however. I have also heard others complaining about damaged equipment inside of the box from other reviews. Overall though I would say this does a great job cleaning everything I tested and in a great pressure cleaner to consider.
The Gernerac 6602 One Wash is the only pressure washer you will ever need. Check it out here
SIMPSON PS3228-S Review:
The Simpson PS3228-S is going to run you about $100 more than the MSH3125-S, but that is mainly due to the Honda GX power plant. This is the most desired small engine around. It is professional grade and built to last. The PS3228-S comes with a Honda GX200 commercial series engines that puts out 32oo PSI at 2.8 GPM. This is very similar to the other Simpson pressure washer I reviewed above.
Not only does this machine have the best engine, but it also has the best pump. For those of you who do not know, the pump is the most important part of any pressure washer. The AAA Triplex pump is commercial grade and will last so much longer than your standard Axial cam model. It is also more efficient by using PowerBoost technology that can provide a higher rating of cleaning performance using the same engine torque and horsepower.
If you are planning on using a pressure washer a lot, than this is the one you want to get. It may even be a great model to start a business with even though it is not technically a commercial grade unit, it has commercial grade parts.
Overall I would have to say that I highly recommend this unit only if you have extra money laying around to spend on a higher quality unit or if you are planning on using a pressure washer a lot. This guy is semi-commercial grade and very durable. It should last you a very long time.
If you can afford to splash the extra cash on a pressure washer this one has all the right pieces. The high quality AAA Triplex pump and Honda GX engine will outlast the competition.  –>Check out the huge discount Amazon offers on the Simpson PS3228-S
GENERAC 6596 Review:
The Generac 6596 is the cheapest pressure washer of the bunch. It has a 196CC engine that produces 2800 PSI at 2.5 GPM. This is pretty standard for a low cost gas pressure washer. Pretty much everything about this is standard and it really just comes down to that is is a reliable unit at a great price. Almost all of the gas pressure washers in the $300 range are going to be very similar except for a few things.
One of the nicer features that Generac has is the onboard soap dispenser for storing cleaning agents. I find this very convenient and usually just leave a bottle of pressure washer cleaning solution inside for the season or until I run out.
I picked this to be in my top 5 list of the best gas pressure washers because of how well it sells and that it has 4 out of 5 star average reviews. Most people tend to agree that Generac makes excellent products and has great customer support.
Another thing to consider when purchasing the Generac 6596 is that they have a CARB compliant version for California residents.
Overall I would have to say that this is an affordable pressure washer that does the job. If you only need to use it once or twice per year it would still pay for itself versus hiring a professional. It has just enough power to do about any job around the house. Read more reviews of the Generac 6596 here.
DUROMAX XP3100PWT Review: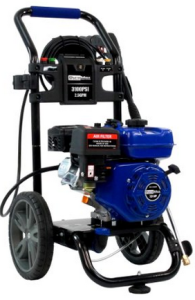 The last mini review I have for you is somewhat new to my list, and may be a brand name you have never heard of before. I know I was new to the Duromax brand, but the XP3100PWT is a great choice for anyone looking to get their very first pressure washer.
When it comes to choosing a cheap or low cost pressure washer, you will notice that almost all of them are very similar like I said before. I like that the Duromax offers 3100 PSI in the $300 range. I believe that you need at least 3000 PSI to get a super clean concrete driveway or patio and being that the Generac 6596 offers only 2800 PSI for the same price – this may be a better option for some.
It doesn't have an on board soap tank but you can still apply soap directly to the pump via a small plastic tube that sucks it straight from the bottle. This little guy is very easy to assemble and start up. If you need something with at least 3000 PSI for under $300, than this is your best option I believe.
make sure you check the sale price of the Duromax XP3100PWT that amazon has and then decided which pressure washer is right for you.
I leave you with this:
You should now have a better understanding of why I choose the above models as the best gas pressure washers. If you have any questions or comments please feel free to use the contact page and send me a message. You can also leave a comment below.
If you think that there is a better power washer and would like me to update my list let me know as well. Thanks!