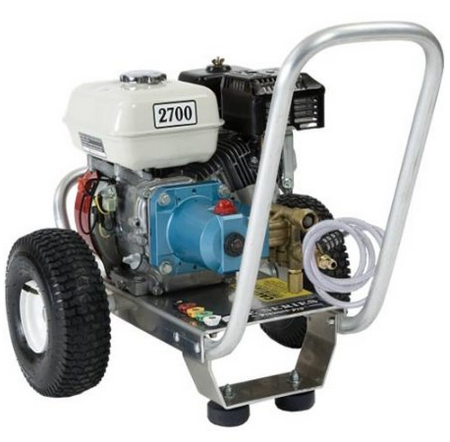 mensclub24
Hey guys, today I am reviewing the first ever pressure washer from PressurePro. It is the Pressure Pro E3027HC Heavy Duty Professional 2,700 PSI 3.0 GPM Honda Gas Powered Pressure Washer With CAT Pump (CARB Compliant).
There are many pressure washers out there that are great for home or business use. While some promise certain functions and features that are supposed to last a long time, there are many that just barely made it to a year or two. If you're looking for a great pressure washer that can be of your service for many years to come, the Pressure Pro E3027HC is a perfect choice for 2 main reasons:
The Pressure Pro E3027HC is powerful and easy to start and use. Probably the best feature it has is its powerful 6.5HP Honda GX200 engine that is super quiet compared to other power washers. It also has a CAT brand triplex plunger pump which helps the pressure washer to run cool and when in bypass mode, its thermo sensor prevents overheating. This CARB compliant pressure washer comes with a wand assembly and an insulated gun that's high quality and professional. It also has 5 nozzles that are quick connect, allowing you to switch them on the fly. It also comes with a  50-foot steel reinforced high-pressure hose.
This pressure washer produces 2700 PSI at 3.0 Gallons Per Minute, giving you 8,100 cleaning units.
PSI: 2700 PSI
GPM: 3.0 Gallons Per Minute
Pump: CAT Brand Triplex Plunger Pump
Engine: 6.5HP Commercial Grade Honda GX200 engine
Detergent System: YES – Siphone Hose
Nozzles: 0, 15, 25, 40, Soap
Warranty: 3 years on the engine and 2 years on the pump. 1 Year limited overall
The Pressure Pro E3027HC is ideal for home use or business. Whether you plan on using it to wash cars or your driveway, wash a shed or walls and other household needs, it is very reliable. The Pressure Pro E3027HCis also made for professional use. This can be used in pool businesses, those with paint businesses, washing heavy equipment for farmers or contractors and so much more. While you won't think you would need one if you won't use it for business, you'd appreciate how the Pressure Pro E3027HC can be helpful to make cleaning chores quick and easy for you.
I love that it uses aircraft grade aluminum, the Triplex pump, and the Honda GX200 engine!
As with most professional pressure washers, the Pressure Pro E3027HC is rather large and heavy. It weighs approximately 88 pounds, and its dimensions are 32 x 22 x 25 inches. It is not exactly portable; however, it is good to know that it has wheels and a handle so you can easily move it around. If you don't have much storage space in your garage, you wouldn't appreciate the bulkiness of this washer. It doesn't have a chemical tank, but it comes with a siphon hose.
Conclusion:
I give this model 4.5 Stars Out of 5. The Pressure Pro E3027HC isn't exactly perfect that's why I am giving it 4.5 stars. It's good enough though as it has all the features one would need from a pressure washer. If it had at least 3000 PSI, I would have given it a full 5 stars. There are some little things here and there like how the nozzles, gun, and hose are stored, but nothing too critical. It's also great that it features a Honda engine as it is one of the most reliable in the market.