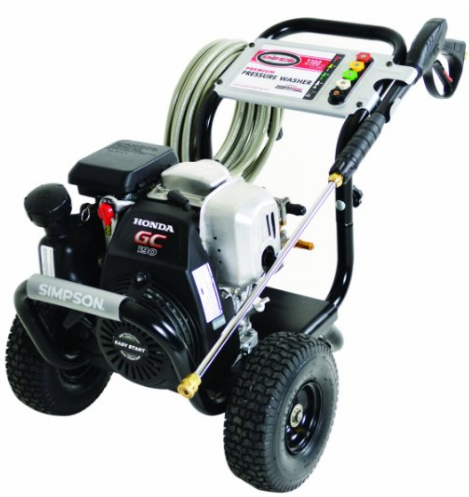 The Simpson is the #3 overall best-selling pressure washer. It is rated as the #1 gas powered pressure washer that features a sought-after Honda engine designed for residential use. The pressure washer is an invention developed by Jack Simpson in the 1960's. The Simpson Cleaning Company has continued to manufacture and distribute the machines for residential and commercial use. The Simpson MSH3125-S's Honda OHC engine yields a strong spray capable of washing off the dirt, grime and any other debris. The power output of this pressure washer is 3,100 PSI (pounds per square inch), and it can dispense 2.5 GPM (gallons per minute).  Typically, this machine can do an extensive cleaning with a 0.91-liter fuel tank. If you are contemplating on cleaning your outdoors, this is a perfect machine to use.
The washer machine has two 10-inch pneumatic tires. It is designed purposely to perform heavy-duty purposes. In addition, it has five nozzles, which are easy to connect. It contains a thermal relief valve and a detergent siphoning tube.
Essentially, the Simpson MSH3125-S pressure washer machine weighs 78 pounds and has a Honda GC 190 engine. The engine enhances the performance of the washer because typically, Honda engines have low energy consumption and high power output.
This specific power washer has a maintenance-free OEM Technologies axial cam brass head pump. Typically we love pressure washers that have a Honda GX engine along with a Triplex pump, but for the price this one is at you do not get those features. Don't get me wrong though, these are still great parts and will last a long time. You will probably have to replace the pump before you replace this engine. It is Solid!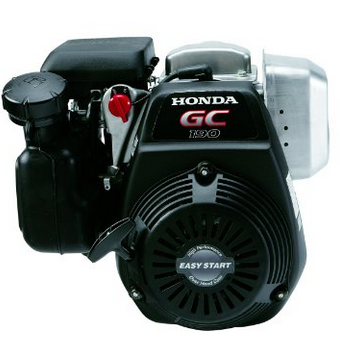 Pros:
The Simpson MSH3125-S pressure washer is compact and small, and you can move it around with ease. You can easily clean your patio, the house siding and any other cleaning activities around the house. In addition, the Honda 3100 GC190 gives it optimum performance power with low fuel consumption and backed by a 2 year limited residential warranty.
Moreover, the pressure washer comes with different nozzle tips that you can use for various cleaning purposes. After using the machine, you can easily store it because of its convenient size. Furthermore, it has a high quality welded frame with 10″premium pneumatic tires.
Cons:
Despite the positive review about the reliability and optimal performance, the Simpson MSH3125-S has only a few setbacks. First, the power washer is very loud; you will definitely wake everyone if you decide to do your outdoor cleaning at dawn.
Second, the power washer does not have an onboard detergent tank. Therefore, despite the convenience and performance of the machine, you will have to settle for a small clear tube that attaches to them pump and then sucks the chemical straight from the bottle.
Lastly, Others have stated that they received missing parts in the box. I was lucky enough to get everything without any issues. However, their customer support is quick to respond and will make sure you get the missing parts in a timely fashion.
Ultimately, the Simpson MSH3125-S is an optimal performer and low on fuel consumption. It is economical to use, and very portable. The high reliability will enhance your cleaning experience. Nonetheless, you will have to deal with the loud noise, limited warranty, and the possibility of getting missing parts. The bottom line is you get to spare a few bucks because it is economical to use. The evaluation of an item depends on its efficiency and cost saving capacity, and, in this case, the Simpson MSH3125-S scores a four-star rating.