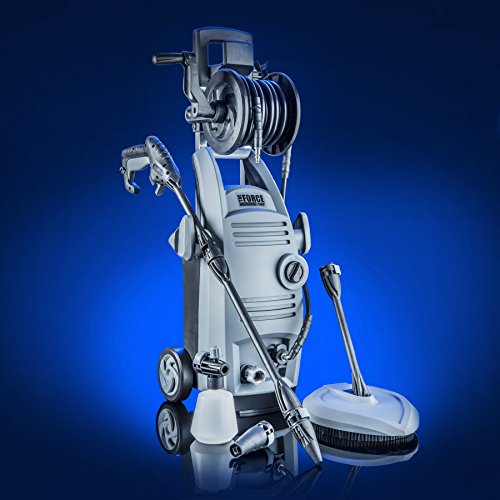 THE FORCE 2000 is one of the only electric pressure washers that features 2000 PSI standard as well as has a 3000 PSI IPB (Initial Power Boost). In order to get 3000 PSI, you usually have to go with a gas pressure washer. Even though this is not the number one best-selling electric pressure washer, it is however the best-selling electric pressure washer with a 5 out of 5 stars review.
Features:
If you are looking for an electric pressure washer with all the bells and whistles this is the one for you. Let me start off by saying that the power is excellent and just about as good as a gas powered power washer due to its 3000 PSI Initial Power Boost. This allows you to feather the machine at a super high PSI to get those tough stains out. On average however the machine runs at 1800-2000 PSI which is still excellent for an electric pressure washer. It is also very efficient with water spitting out just 1.6 gallons per minute.
You will find that lots of pressure washers do not offer that great of cable management. This machine is one of the best. It features an integrated quick connect hose reel that you can easily wrap up your hose with a turn of the handle. It easily attaches to the machine as well as has options for storing other included attachments. The overall length of the power cord is 35 feet which is usually more than enough length, but being that this is an electric pressure washer you can attached extensions cords to get to any location.
The included additional accessories include a spinning patio cleaner, an adjustable nozzle which adjusts the spray from wide fan to extremely thin, and a spinning high powered turbo nozzle which easily removes dirt and debris from most surfaces. The spinning patio cleaner is usually around $70 and the PowerFit PF31023 Surface Cleaner, 15-Inch is one of my must have accessories.
Conclusion:
The Powerhouse International Force 2000 is a great choice for those that are looking for an electric pressure washer with lots of power but do not want to make the jump to a gas powered pressure washer. I give the Force 2000 5 out of 5 stars and you will see that everyone else on Amazon gives it a perfect rating too. Like all electric pressure washers, it does a great job for smaller tasks. There is no way I could use this to pressure wash my large driveway it would just take too long and would not have enough power to get the deep stains out. However, this works perfectly for me on the patio, lawn chairs, and for cleaning the stain on the house. I like it because it is light weight. Perfect for my needs.