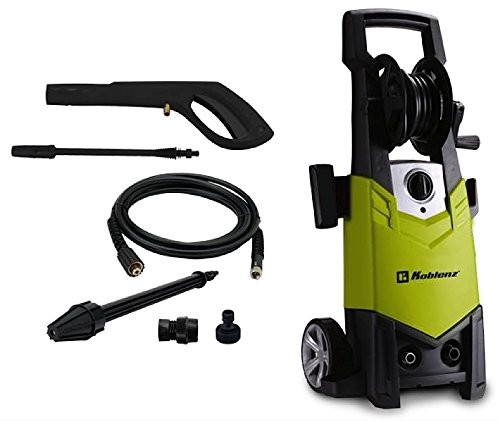 With a powerful and efficient universal motor and an Automatic Stop System to ensure safety, the Koblenz HL-410 Pressure Washer is a useful device to have around. It is a great device if you are conscious about green technology which sustains natural resources. It does uses only about 80% of the water you would have used by a regular garden hose, but it also uses a low level of electricity as well. Due to the power of the water pressure, you can complete the task that you are doing within a minimum amount of time. Since this unit is user-friendly, getting a professional level of cleaning done has become easier for everyone.
Product Features
The Koblenz HL-410 Pressure Washer comes with a 2,200psi motor which gives it the power to clean even the hardest surfaces. The size of the device is very small making it flexible to be used around any situation including cleaning your car, your house, to boats, or any surface that needs a powerful cleaning. The high-pressure hose of the washer boasts minimal 1.32 GPM water flow which means you can get even the dirtiest perfectly clean within a matter of seconds compared to your standard garden hose.
Specs:
Model: Koblenz HL-410 V
GPM: 1.32 Gallons Per Minute
PSI: 2200 PSI
Pump: Koblenz universal electric pressure washer pump
Engine: unknown exact engine
Detergent System: NO
Nozzles: adjustable nozzle
Warranty: 1-year limited warranty.
Pros:
One of the major pros of  the Koblenz electric pressure washer is the power it puts onto the surface vs your garden hose. This gives you a perfect clean, while giving out a minimum amount of sound, using a minimum amount of water and electricity. It is basically the favorite among "green-device" lovers. It is light-weight making it able for you to move around when you clean a building, vehicle, etc. It is a fairly low maintenance machine, and the one time you pay for it is the last time you spend money for the machine since you do not need to buy any additional oils, gas, etc.
Cons:
Cons of the Koblenz HL-410 V include needing an electric socket nearby in order to use it, which makes it not flexible in specific projects.  They are cheaper in price compared to other major brands, and some people would consider it lower in quality for this reason.
Final Verdict
Overall, with all the pros and cons, the Koblenz HL-410 electric power washer is indeed a good product to have not only for commercial cleaning situations but also for a good and nice cleaning around your household. It will definitely get your job done, and as long as you have an outlet near-by. It is easy enough to carry and reach even the hardest places to clean them perfectly. This pressure washer deserves 4.0 stars out of 5, mainly because there are some better models out their for around the same price. (You can check out my list of the best electric pressure washers here)
Click here to get the best price on the Koblenz HL-410 Pressure Washer
Incoming search terms: