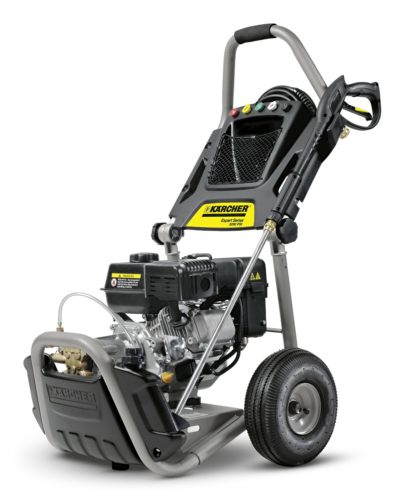 The Karcher brand is one of the best selling pressure washers around and today I am going to review the G 3200 XC series. Previously I did a review on the G 3200 OCT model that you can check out here: Karcher G 3200 Gas Pressure Washer
The Karcher XC model is part of their Expert series. When comparing the Karcher G3200 series, the XC and OCT are almost identical, except the XC has a built in detergent system and ways a few lbs less. Because of the on-board detergent system, the XC series is designed for the professionals but aimed a homeowners who want professional cleaning power at a competitive price.
Having a reliable pressure washer is without a doubt highly beneficial for both commercial and residential purposes. With this in mind, we would like to bring your attention towards one of the leading products on the market – the Karcher G 3200 XC Power Washer.
Features of this machine:
Right off the bat, it's worth noting that the unit comes with an incredibly ergonomic design which is particularly designated to further promote the performance. It's equipped with a powerful and reliable Karcher KXS 196 cc engine which should be more than enough to satisfy even some of the most heavy duty demands.
Furthermore, the machine comes with a quick connect in order to ensure incredible ease of storage and setup. You can also take advantage of the tie down slots in order to ensure smooth and seamless transportation when needed. It's worth adding that the Karcher G 3200 XC Power Washer comes with a convenient large 1.3 Gallons detergent tank. This means that you can conduct larger working sessions without having to worry about refilling the detergent. There is also a regulator cap for secure performance.
Lastly it has large pneumatic  tires with metal wheels because the manufacture knows that this will be used in commercial environments and wanted to make it as easy as possible to push the machine around the work site.
Specs:
Model: Karcher G 3200 XC
GPM: 2.5 Gallons Per Minute
PSI: 3200 PSI
Pump: Commercial Grade with brass pump head
Engine: Karcher KXS 196cc
Detergent System: YES onboard
Nozzles: 0, 15, 25, 40, and 65/Soap.
Warranty: 2-year limited warranty.
Pros:
One of the greatest advantages of the machine is the overall effortless performance that it secures. The ergonomic designs in combination with the convenient pneumatic tires make it a breeze to push around and use in all sorts of settings. This is going to provide the user with a seamless pressure washing experience that a lot of other units fail at.
This Unit has a commercial-grade pump with a brass pump head developed exclusively by Karcher's German engineers. (The same pump technology was used by Karcher to clean the presidential faces on Mount Rushmore.). If you are not sure what that means, it simply means the best. Be sure to check out my article on why the pump is the most important part of any pressure washer.
Cons:
Even though the machine has to offer quite a lot on the table, it's worth pointing out some of its drawbacks for the sake of being entirely objective. Right off the bat, you have to consider the fact that the machine weighs around 70 pounds. This means that at times it might get a bit tiring. Furthermore, its larger dimensions mean that you would have to set aside specific storage unit for it. Apart from that, it's safe to say that there are no significant flaws.
Is It Worth It?
Due to the minor objections which were exposed in the previous paragraph, it's fair to rate the Karcher G 3200 XC Power Washer with an overall score of 4.5 out of 5. It is a great little unit for the price but there are better options out there that cost a lot more money so you decided.
–>Click here to get the best price at Amazon on the Karcher G3200 XC Gas Power Washer<–