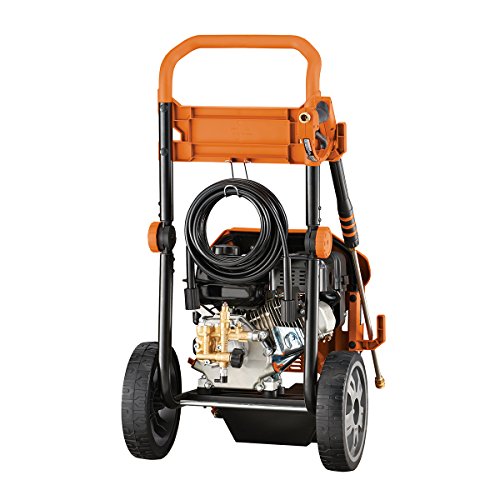 The Generac 6602 is one of the best-selling gas pressure washers.
UPDATE: after using this for mainly household chores like cleaning the driveway and patio, I noticed that the negative wire connection clip keeps coming off due to the engine vibration. To fix it, I just tighten the clip but it can be annoying at times especially when the unit is still very hot. Also make sure that you click the hose nozzles all the way in. I did not at it shot across my entire yard after the first trigger pull. Speaking of Pulls, the unit fires up almost instantly most of the time as long as you are using the choke properly. Some times it takes 2 pulls to start but overall it has been very easy to start.
Features:
212cc OHV engine – very powerful and one of the best in class engines available. It produces 3100 PSI at 2.8 GPM which is capable of cleaning just about anything around the house. When I made the jump to a gas pressure washer I had to have something with at least 3000 PSI to work correctly with a surface cleaner. Anything with a lower PSI just took longer to clean and left streaks on the concrete driveway.
PowerDial Variable-Pressure Control – this allows you to easily adjust the pressure to clean something as hard as cement or as soft as car paint. Being able to adjust the pressure is a handy feature as you do not want to damage items while cleaning. This unit also includes 3 quick connect nozzle tips in the range of 0°, 25°, soap applicator.
30′ hose – most of the time you get a 25 foot hose or smaller. Adding the extra 5 feet is really beneficial so you do not have to keep moving the power washer around and can focus on getting those tough stains out.
Conclusion:
Overall I give the Gererac 6602 4 out of 5 stars. I removed a star mainly because of the packaging. The black and yellow wires that go to the power switch were off and I had to figure out which one goes where. These should not be getting disconnected during shipping. Generac makes some great pressure washers and the 6602 is one of the best in the under $400 price range. I love the 212cc OHV engine and it is rated as the largest and most powerful engine in its class.
If you are looking to save some money and do not need all the power, you can check out my review on the smaller Generac 6597. This unit is very similar and will save you about $100.