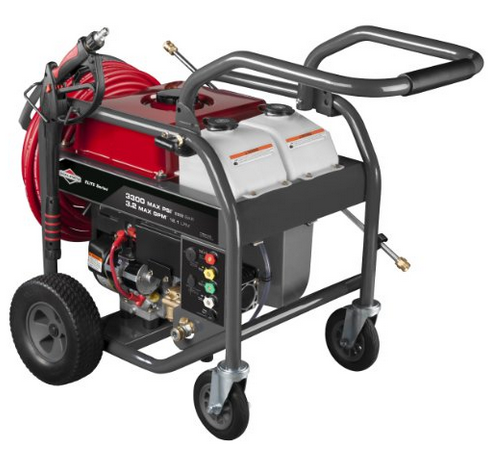 The Briggs & Stratton 20542 gas pressure washer is a machine that is ideal for all of your outdoor cleaning projects. Washing driveways, fences, Patio furniture, and cars among others will never be an uphill task again because the Briggs & Stratton 20542 Gas Pressure Washer makes it a walk in the park. Cleaning your property has never been this easier with Briggs & Stratton washer, which can give lower pressure and higher flow or higher pressure and lower flow. This means that cleaning furniture and other light tasks that require low pressure is possible and tasks that require high pressure are also possible.
This model is part of the Briggs and Stratton elite series. This series is mainly used for entry level commercial applications. You can quickly tell by the compact design and excellent overall specs that this is one of the best pressure washers you can get.
Specs:
PSI: 3300 PSI
GPM: 3.2 Gallons Per Minute
Pump: Triplex Plunger Pump
Engine: Briggs and Stratton 1150 series OHV 250cc
Detergent System: YES – (2) 1-gallon on-board tanks.
Nozzles: 0, 15, 25, 40, Soap
Warranty: 2-year limited consumer warranty and a 90 day limited commercial warranty.
>>Click Here to get the Briggs & Stratton On Sale at Amazon
Features:
4 wheels that increase the maneuverability of the machine
A key electric start, which gives the machine an effortless start and eliminates the use of a pull chord.
3-gallon large fuel tank that offers up to 11 hours run time. You will get about 7 hours of run time at a 50% load.
Two 1 gallon on-board detergent tanks
50 ft. high-pressure hose and 5 quick-connect spray tips for extended reach and predefined spray patterns, which give precise control.
3-position fold handle for easy maneuverability and storage
Thermal relief valve that makes sure your pump (which is  Triplex pump that is very desirable) does not overheat.
Adjustable pressure regulation. Perfect so that you can dial in the settings you want for your specific project. We don't want to use too much pressure when cleaning a car. It could damage the paint.
Pros:
The main advantage of having a Briggs & Stratton 20542 is that it can do 50 times more cleaning than a garden hose could, which makes work more efficient and easier. The Pressure washer machine is easy to store and move, durable, quick to set up and highly efficient both for home and business use. The Briggs & Stratton 20542 pressure washer comes with complete high quality accessorie and is perfect for all your outdoor cleaning.  In addition, it uses considerably less water that helps you save on water bills.
Other advantages of the 2042 pressure washer include:
Best pump you can get (Triplex Plunger Pump)
More than enough PSI and GPM for everything around the home. I like a pressure washer to have at least 3000 PSI and this one supports 3300 PSI.
2 on-board storage tanks makes storing your detergents very easy.
Compact design. I love that everything fits so nicely togethre. You have a place to store your wand, gun, and hose. Also the nozzles are in an easy to access location as well.
Huge 3 gallon fuel tank. Being able to run for 7 hours on average at a time is a huge plus. Some pressure washers that I have reviewed you have to stop and refill them up every hour.
Cons:
There really are not many things to dislike with Briggs and Stratton. The only real disadvantage that has been reported by the users of this machine is the packaging during transportation. Luckily mine came unharmed, but if you do happen to get a damaged box, Amazon and Briggs and Stratton have excellent customer service and will help you get squared away in no time.
Conclusion:
For a long time, Briggs & Stratton gas pressure washers has been a leading brand in providing reliable, efficient and durable power equipment. I hope that my Briggs & Stratton 20542 review shows that cleaning professionals and home owners have counted on it time and time again. I would have to rate the Briggs & Stratton 20542 Elite Series 3.2-GPM 3300-PSI Gas Pressure Washer 5 stars due to its high performance, efficiency, and effectiveness.
The elite series is definitely something you should check out when choosing a pressure washer. I think that Honda and Briggs and Stratton make the best small engines around and I am sure others agree based on all of the positive reviews.