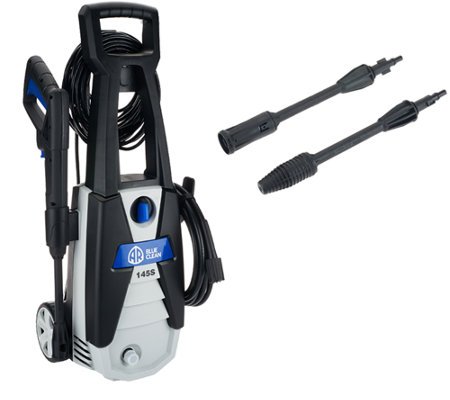 Hey guys I just got word that AR North America just released a new model for QVC so here is my AR Blue Clean 145S Review.
I first got word of AR135S when I saw it on QVC. I am not sure if this model was made specifically for QVC, but I am almost positive it is.
This power washer has an electric motor that produces 1600 PSI and the pump is all aluminum and not plastic. That means that this unit will last longer and get the job done faster. As I say in almost all of my reviews, the most important part of a pressure washer is the pump, and AR North America knows this as well. That is why they put this high quality pump in.
This pressure washer effortlessly removed mold, mildew, and even likens on an old fence. It is perfect for restoring and bringing things back to life. You can see a live demonstration in the video below.
Pros:
This pressure washer is great for cleaning fences, decks, trellis, patio, the side of your house, as well as many other tasks.
Not gas-powered, no  pull starter, You just plug it into an outlet and attach your garden hose.
Lightweight
produces over 30x the pressure of a standard garden hose.
Easy to use. You do not have to rely on a professional to clean small things around the house.
Includes a nice long reach 35 foot power cord
Includes a turbo nozzle for high powered precision cleaning
Included a detergent applicator which is super easy to use and makes washing a car very fun and easy.
AR Blue Clean is a reliable and trusted company that has been in business for over 50 years.
Saves about 80% of water compared to a regular garden hose.
Cons:
May not have enough power for larger jobs. This is a downfall to all electric pressure washers and the reason you would need to step up to a gas pressure washer.
Only comes with a 1 year warranty, but that warranty covers everything bumper to bumper and they have great customer service so it really is not that big of a con.
Conclusion:
It was only 15 years ago that pressure washers became a common household item. Previously they were only used for industrial applicaitons. Now you can get a simple and easy to use pressure washer for an affordable price that will make cleaning fun and get the job done quick. Once you start seeing results you will want to keep on cleaning.
I would have to say that the AR145S is a great choice for an affordable electric pressure washer and may even get added to my list of best electric pressure washers in the very near future. I just need to play with it for a little longer to get a better feel for it.
Right now I would rate it 4 out of 5 star and if you are looking to get the best price on this Blue Clean power washer be sure to check it out on Amazon. They always seem to have the best deals on electric power washers.