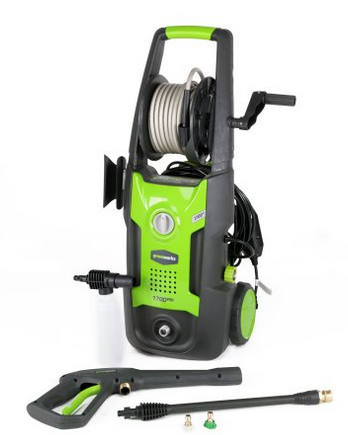 dekor-okno.ru
The GreenWorks GW1702 electric pressure washer is currently on sale for $89.00 at Amazon. You can also get the GW1501 which features 1500 PSI for $79.00. As always you can get 2 day free shipping with Amazon Prime.
Based on the reviews of other this electric pressure washer gets an average of 4 out of 5 stars. I am still waiting to do an official review of this pressure washer but if you are in the market for one now is the chance to grab it at a great price.
PSI: 1700 PSI
GPM: 1.2 Gallons Per Minute
Pump: Axial Cam
Engine: Electric
Detergent System: NO, but GreenWorks does have the model GW1951 which offers 1,950 PSI and includes dual built in soap tanks
Nozzles: Wand, low pressure foam sprayer and 25, 40 degree nozzle tips
Warranty:  4-Year limited manufacturer's warranty.
Overall this is a great pressure washer for the price, especially considering you get a 4 year warranty and it is currently on sale for under $100. It does tend to have a bad design that it can easily tip over, but on the other hand it is very lightweight and easy to carry. The unit also has a great hose reel for excellent cable management.
Stay on the luck out for my full review of GreenWorks pressure washers.
Incoming search terms: