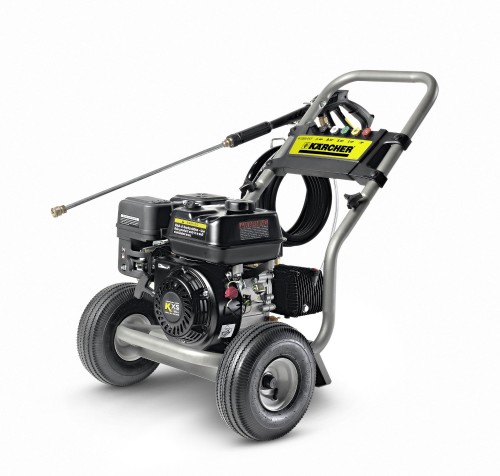 In the world of pressure washers, the Karcher brand is number one best selling. This new pro series Karcher G 3200 Gas Pressure Washer promises to be cleaner and quicker than the competition. It is powerful enough for the professional handyman, yet simple enough for around the house maintenance.
Features:
Some notable features include the professional-grade three-piston crankshaft (triplex) pump and the professional-grade unloader valve. These, in conjunction with the Karcher KXS 196cc engine, create a powerful jet of water, capable of cleaning all tight nooks and crannies. The Karcher G 3200 is not only good for basic yard cleanup, but also for tough mildew stains and tile scum. Along with it's 3200 PSI, it can make easy work of just about anything including concrete driveways.
The quick connect 25ft steel-braided rubber high-pressure hose combined with the pneumatic tires and metal wheels allow the user to get hard to reach places comfortably. Moreover, although the washer is 69.5 pounds, the wheels make transporting the machine much easier.
Specs:
Model: Karcher G 3200
GPM: 2.5 Gallons Per Minute
PSI: 3200 PSI
Pump: Triplex Pump!!
Engine: Karcher KXS 196cc
Detergent System: YES Detergent injection hose
Nozzles: 0, 15, 25, 45, and 65/Soap.
Warranty: 2-year limited warranty.
Pros:
Whether your yard is big or small, there will always be those hard to reach places. The 25ft hose is perfect for reaching into tight areas such as awnings and gutters. The Karcher G 3200 power washer also boasts a durable 18 gauge welded frame, coated with powder to resist corrosion. Given the investment needed to purchase this power washer, rust resistant coating does ease the mind regarding the longevity of the machine.
Speaking of longevity, you will love that this unit has a triplex pump. If you are not sure what that means, it simply means the best. Be sure to check out my article on why the pump is the most important part of any pressure washer.
You will also enjoy the power for price ratio here. You are getting a 3200 PSI pressure washer for a very good price >>Best Price can be found by clicking here<<
3200 PSI at 2.5 GPM is more than enough power to get just about anything done around the house and this machine is even capable to be used in commercial applications.
Another great feature is the free two-year warranty. If this machine, for whatever reason fails within two years of purchase, the Karcher Company will either fix or replace the machine. Accidents happen all the time, feel assured in knowing your investment is secured, after all, that's what warranties are for.
Cons:
First, the Karcher G 3200 is somewhat expensive as it retails for $450 on Amazon.com, which is a hefty price for a gas pressure washer. Secondly, the start-up process is also bit complicated. Although this machine is quite powerful, it takes a lot of work to get it started (compared to other push button start models and electric pressure washer models). Yard work is already daunting; a slow start-up can dishearten even the most enthusiastic worker.
Lastly, the maintenance. This is a con that I write in just about every gas pressure washer review that I do. You have to take care of gas engines. They are not as easy as electric models. Maintain them correctly and they will last a very long time. This includes changing the oil, applying pump saver, and any other specifics that are in the manual.
Is It Worth It?
To conclude, of course, this power washer is worth the investment. The price point might dissuade some people, but the two-year warranty should not be ignored. Given the pros and cons, this washer has earned a solid 4.0/5.0, star rating and is definitely worthy of consideration!
–>Click here to get the best deal on the Karcher G3200 Gas Power Washer<–